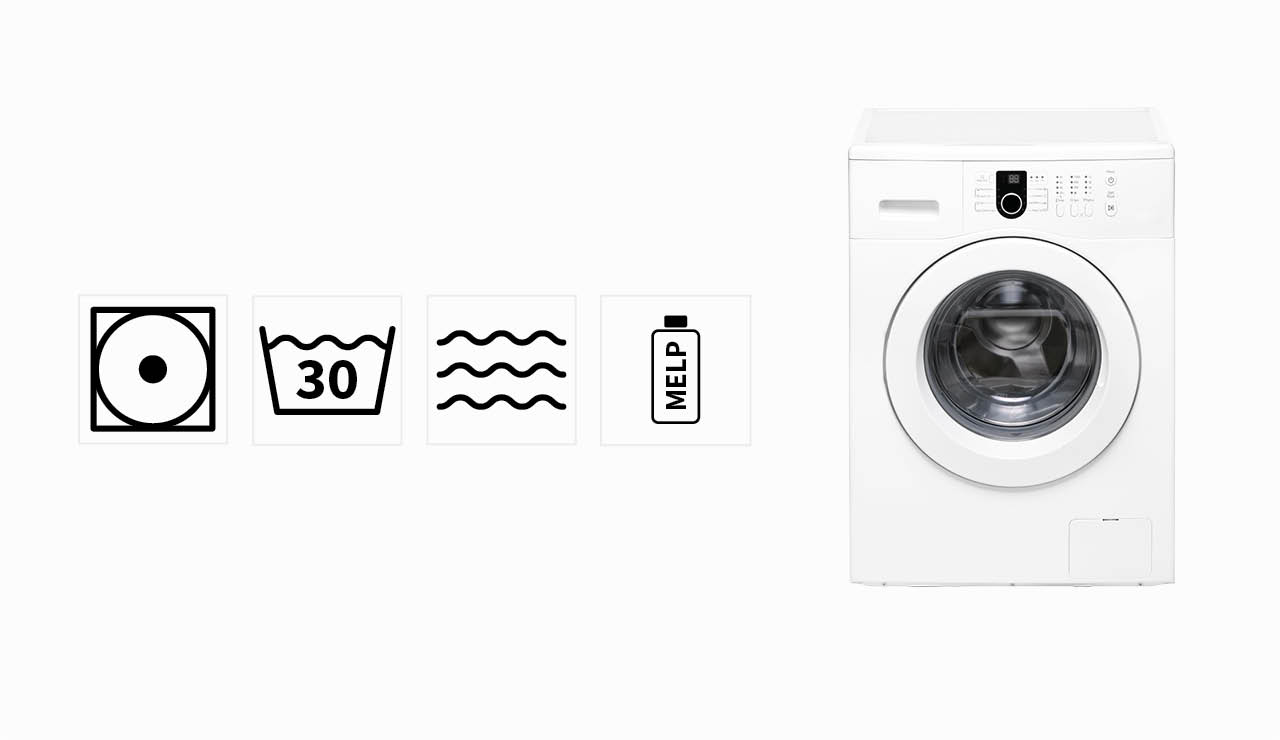 Download washing instructions (PDF, 53 KB)
Proper care? Enjoy your lambskin products - for many years to come!
You're sure to enjoy our durable lambskin products. To keep them working well and looking great for many years to come, our products are not only washable, but actually benefit from regular washing: we expressly recommend regular machine washing, preferably using our special MELP detergent. Its quality ingredients are even used in the production of our lambskins.
Washing removes not only dirt, but also sebum and ammonia from your horse's aggressive sweat from the products. Thorough drying, preferably in a tumble dryer, ensures that the fleece is fluffy and the leather remains soft.
The best way to wash and dry your lambskin products - Step by Step
Before washing:
Fasten any Velcro.
Remove POLY-FLEX® shims and SADDLE-FIX®.
Always wash saddle pads inside out and separately from fleece rugs.
Wash gently:
Wash your lambskin products in the washing machine; machine washing is more effective than washing by hand.
Do not overload your machine.
A 30 °C wash cycle is ideal.
Choose the "extra water" option and a normal spin cycle.
Always use the special MELP detergent from Mattes. Please avoid using any other wool detergent, fabric softener or bleach.
Dry gently:
Remove the product from the washing machine immediately at the end of the cycle.
Lambskin items are best dried on a cold or cool (max 30 °C) setting in the tumble dryer, or alternatively outdoors in the shade. Never expose to direct heat or bright sunlight.
Gently reshape the product as it dries.
Washing tips for Mattes girths, boots and fly veils
Girths
Please remove the plastic inserts from items with sewn-on lambskin prior to washing; do not replace them until the product is completely dry. If your lambskin is removable, leave the inserts in the basic girth during washing. For best results, place the basic girth in the sturdy Mattes laundry bag and add the lambskin cover to the same wash load, outside the laundry bag. Use our special MELP detergent and use approximately an additional two litres of water in the washing machine.
Professional Boots
Velcro the outer shells of the boots together with the insides facing and place them in our proven laundry bag. Wash the lambskin linings in the same wash load, outside the laundry bag. Our advice: The linings should be washed more frequently than the outer shells. The outer shells will usually only need a wipe with a damp cloth.
HI-PRO Fleece Boots
Please ensure that all Velcro and zip fastenings are fully closed during washing. As when washing our Professional Boots, use the special MELP detergent to replenish the natural oils and to protect and care for the leather of the boots.
Fly veils
Our fly veils are hand-made using top quality cotton yarn, so these products are worth looking after carefully: Wash the fly veil by hand in tepid water and gently squeeze out excess water; do not wring. Then gently reshape the fly veil and lay flat to dry.
Frequently asked questions on washing and care - and reliable answers
What should I be aware of when I wash my Mattes items for the first time?
A few wool fibres may come away from the seams the first time an item is washed. Pale quilting and binding may pick up a little colour from dark or brightly coloured lambskin or coloured piping. It is therefore important to remove the product from the washing machine and dry it immediately.
Why should I use the MELP detergent rather than an ordinary wool laundry detergent?
Normal laundry detergents usually contain ingredients that will harm the wool and leather. Even wool detergents are designed to be perfect for wool which has been treated to prevent matting, as is the case for most modern woollen items. As a result, it is possible that even these may cause damage to the natural lambskin. Over time, the wool will become brittle and matted and the leather can harden and crack. However, we have developed our special MELP detergent specifically for our lambskin products. It is highly concentrated, biodegradable and contains the same substances that we use in our production processes. MELP's ability to replenish natural oils is particularly important: this ensures that the wool remains resilient and elastic while the leather stays soft, even after numerous washes.
My washing machine doesn't have the "extra water" option. What can I do?
Before you start the main wash cycle, simply add an extra three to four litres of water to the washing machine: to do this, pull out the detergent drawer and slowly pour the water into the drawer using a measuring jug or houseplant watering can.
I would like to use my Mattes product as soon as possible after washing it. Can I speed up the drying process by hanging it in the sun?
Never dry your products in direct sun or place them directly on a source of heat such as a radiator or towel rail. Ideally, items should be dried at a maximum of 30 °C in a tumble dryer, or air dried in the shade or a well-ventilated room.
Can I iron my lambskin products?
Absolutely not, ironing is certain to damage the product - and your product will look perfect without any need for ironing.
Any advice for frequent or occasional riders?
Frequent riders are advised to use several lambskin saddle pads and girth covers in rotation, washing them weekly. If the product is really soaked with sweat, we recommend washing it immediately after use. If you only ride occasionally or if you've had to take a break, you should wash your lambskin items, dry them and then store them somewhere clean and dry; plastic bags are not suitable for storage.
Can I brush the dirt off?
If the lambskin is still damp from riding, you can wipe the dirty surfaces with a damp sponge. Avoid brushing while damp. When the item is dry, you can carefully brush off light soiling on the ends of the wool with a soft brush (body brush). If the dirt is deeper in the fibres or is stubborn or stuck, opt to wash the item to avoid the risk of creating bald patches.
Is there anything I should be aware of if I choose a brightly coloured lambskin for my pale coloured horse?
There is no question that dark or brightly coloured lambskin looks really striking on a grey. Under some circumstances, your horse's coat may become slightly discoloured in certain areas; it is also possible that the colour of the lambskin may become slightly lighter. This depends on the composition of your horse's sweat and can also be seen on dark or brightly coloured leather tack. If your product has left discolouration on your horse's coat, you can remove it easily and without damage to the skin or coat using an ordinary hand cleaner paste available from DIY stores. Try it on stable stains too!
Last, but not least: We are sure you understand that we can accept no liability for defects caused by a failure to follow our washing and care instructions, incorrect handling, alterations to our branded products and unauthorised repairs.